Musicians
No Square
André Hahne (bass) Alex Ambroziak (drums) Matthieu Dumarque (sax) Matthieu Roffé (piano)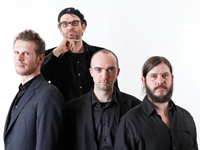 No Square was founded in July 1994 with Matthieu Roffé on Saxophone, Matthieu Durmarque on Piano, André Hahne on Bass and Yannick Oppliger on Drums. The musiciens have created individually and collectively the original pieces found in their seven albums: The Fly (1996), Green Apples (1997), Empreintes (1999), Live à la Case à Chocs (2000), Cest où Doregon (2002), Double Album Studio & Live (2005) and le Pendu (2008).
With No Square's seventh album le Pendu the listener is invited to travel through eight brand-new compositions, which took inspiration from the many tours that took place over the past years. This jazz quartet confirms, once again, to be well mature and to enjoy sharing their music with lots of generosity. No Square however is above all a group of four strong characters who come together and forge collectively original themes though the art of improvisation.
In March 2006, the French magazine Jazzman wrote: "Electric jazz where the collective aspect is paramount; the maturity of the quartet is revealed throughout the CD... musicians well positioned for a new decade and we'll be there!"
Pascal Schumacher 4tet
Pascal Schumacher (vibraphone) FRanz Von Chossy (piano) Christophe Devisscher (double bass) Jens Düppe (drums)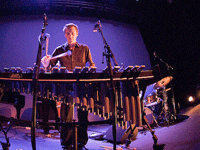 Pascal Schumacher has been described as a Goldsmith in his art, a boundary-pushing musician, a resourceful improviser and an imaginative composer.
Keen to explore the links that exist between many musical genres, it is difficult to pigeon–hole his talent, his taste or his musical influences. One thing is certain: he is a Vibraphone player with a unique aptitude and sensitivity who manages to inject panache and flamboyance into every performance.
His flair for improvisation is married to a lucid inventiveness which together create an original sound as visionary as it is melodic. As a physical performer, he is skilful, far-reaching and theatrical without being pretentious, making his performances inclusive and interesting to watch.
Joanna Wang
Payne Charles Scott (drum) Yamada Yohei Th (bass) Fullen Matthew James (keyboard) Mike C MacLaughlin (guitar)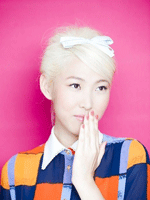 Joanna Wang is a Taiwanese singer-songwriter, daughter of renowned music producer Wang Chi-ping. Born in Taipei but raised in Los Angeles, California, Wang dropped out from Gabrielino High School when she was 16. Her debut album, Start From Here, was released in January 2008 as a double-disc set, one in English and the other in Chinese. The album reached #1 in Taiwan and has been popular throughout Southeast Asia. In June 2008, it was released in Japan. Her second album, Joanna & 王若琳, which includes her all-original endeavor, The Adult Storybook, was released in January 2009. As she was raised in the United States, Wang was exposed to many classic pop music acts, including but not limited to: The Beatles, Queen, and Oingo Boingo. Among her major influences are Danny Elfman, Yoeko Kurahashi, Paul McCartney, and video game soundtracks, most notably those from the Castlevania, Zelda, and Mario series. She has stated in her YouTube videos and in interviews that she dislikes the debut and rejects it as her own work. Wang is a left-handed guitarist. She has performed some of her own work and has covered various popular songs in English and in Chinese on Taiwanese television programs.
Awards :

2008: Singapore Hit Awards 2008 - Outstanding Newcomer
2008: 9th CCTV-MTV Music Awards - Most Popular New Female Artist of the Year in Hong Kong and Taiwan
2008: Metro Hits Music Awards - Metroshowbiz Hits Mandarin Songwriter Singer Big Award
2008: Metro Hits Music Awards - Metro Radio Hits Most Voted Newcomer Award
2008: China Mobile Wireless Music Awards - Most Potential New Female Singer
2008: 2008 Beijing Chinese Pop Music Awards - Best Composer-Singer Newcomer
Reija Lang Trio
Reija Lang (vocal) Jarno Kukkonen (guitar) Mikko-Ville Luolajan-Mikkola (violin & double bass)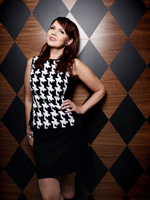 REIJA LANG is a Finnish jazz vocalist and lyricist who prefers to explore and mix different music and art features and styles. She feels equally at home either singing jazz standards and arranged big band music or experimenting with contemporary music and absolutely free and unlimited improvisation. In addition to vocal expression, she writes lyrics and original poems and also creates improvised stories on stage in free improvisation. Reija won the Finnish Vocal Jazz Contest Lady Summertime in 2002. She has collaborated with the respected Finnish classical/jazz violinist Mikko-Ville Luolajan-Mikkola since 2002. Their quintet Lang & Luolajan-Mikkola, with Kari Ikonen on piano, Ville Herrala on bass and Mikko Hassinen on drums released a well-received record "Transit" in 2005 on the Rockadillo Record label. Reija has also collaborated with composer, arranger and trumpet player Mika Mylläri since 2004, on various creative jazz projects. In 2008 she formed a band by the name of Burn Out Mama together with Mylläri and three top notch British musicians; Ed Jones on saxophone, Geoff Gascoyne on double bass and Orphy Robinson on vibraphone. The band released a record Out of Office in 2009 on the Hub Productions label. She founded Reija Lang Trio in 2007 together with her long term collaboration partners, violinist/bassist Mikko-Ville Luolajan-Mikkola and guitarist Petri Krzywacki. The band released a well received album Soundoscope in 2010. Reija also performs as a featuring vocalist with several bands and in collaboration projects, due to her versatile repertoire.
bconnected
Eugene Montenero (guitar) Gregory German (drums) Ivan De Luca (bass) Philippe Sellam (sax) Daniel Ciccone (perc) Thomas Florin (key & piano)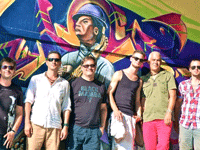 Founded in 1994 by the swiss guitarist Eugene Montenero, bconnected knew since its creation, to preserve a strong identity. In January 2013, the 8th record MAGICAL MYSTERY WORLD comes to confirm the strong will of the band to be leaded towards new musical horizons…With already 19 years of experience, the band is in its full maturity, each one being able to feel in the direction which it wishes and with the intention to bring to the collective new connections. Because of this opening mind towards the world, bconnected is in perpetual evolution but keeping its roots in the tradition of the jazz music.
Their individual background is impressive and the musical assessment group is tight. The 8th records carried out of 19 years of career mark a beautiful regularity. One can still add tours in Asia (China, Thailand, South Korea, Czeck Republic, Austria, France…) from 1994 to 2012, concerts in various areas of the world, from Lausanne to Shanghai, some prestigious festivals such as Montreux Jazz Festival, Tabarka Jazz Festival, Willisau Jazz, Festival, Dimajazz de Constantine, Jazz Parade Fribourg, Pattaya Music Festival, Shanghai Grand Theater, Shanghai Jazz Week Festival, International Festival of the Arts, Kunming, Dance & Music Festival Bangkok, Hong-Kong International Jazz Festival, JZ Jazz Festival Shanghai, Beijing Nine Gates Jazz Festival, Backstage Live Jazz Club Hong-Kong…Naturally many artistic collaborations comes up as such as Billy Cobham (USA) Coco Zhao (China), Guillaume Perret (France).
Wilson Chen 4tet
Wilson Chen (sax) Huang Jian Yi (piano & key) Steve Desvaux Desiré (Bass) Jallil Auckbarauliee (drums)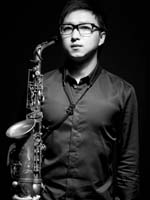 Start to play the saxophone at 13-year-old, Wilson Chen has studied with Professor Zhang Xiao Lu at the age of 18 and won the champion of YAMAHA international saxophone competition of 2001 and 2002. Performed as a professional musician at the age of 19, he plays at the hottest jazz clubs in Shanghai and JZ music festival. Wilson Chen worked in various jazz bands, among others with pianist singer Luxuanchen, the J3 trio, he was also the saxophone lead with the JZ all-star big band, and performed as well with Brazilian band lead by bass player Tinho Perrera.
His talent leaded him to perform at the greatest master show in Shanghai with artist such as Dee Dee Bridgewater and JZ all star big-band.
October 2012, Wilson was invited to Shanghai Conservatory of Music school's "Jazz it up" Music festival, and share the stage with world knows saxophonist Eric Marienthal, performing and published in the American jazz magazine "Down Beat". This is the first time a Chinese virtuoso reported by Down Beat magazine.
Wilson performance also with the famous music producer Chen Yao Chuan "20 years music" concert. With the Hong Kong Pop star Sandy Lam and Fang Datong's concert. Wilson Chen also received notable credits by world famous artists such as Bob Mintzer, Honda Masato, George Benson, Gene Aitken, Rusty Higgins.